Prompt: Write a scene of misunderstanding.
This year I am adding an incentive for people to post their scenes or at least a snippet from their scenes as a reply to each day's prompt. Anyone who posts here gets their name entered into a drawing, and at the end of the month, I will send one lucky writer a fiction writer's care package. If you post, fill out this contact information form. 🙂 A few items that are part of the care package are featured above to entice you to share!
Here's a picture again of a few of the items in the writer's care package to entice you…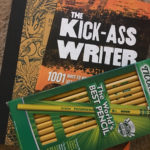 Buy my books here.
Please follow and like us: