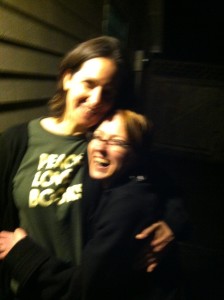 We were eight, maybe nine, when we met. I don't remember the first moment, but I remember a lot of important moments along the way, including the time we went to the public library to research fruits and vegetables for our comic book, The Wacky Fruit Gang. I wrote the stories, you drew the pictures, though I think you drew a hell of a lot more than I ever wrote.
When you were here last weekend and you said you'd gone through a Stephen King phase, I remembered the fat paperbacks that lined the headboard of your Queen Size bed. I remember how we both participated in The Young Author's Conference every year. Then there was the year in 8th grade when I had written nothing I felt I could share and you loaned me some poems to put my name on. I will never forget: I am a flamingo, all pink and tall. I live in Florida, along the ocean wall.
I remember how after driving out to the beach to burn our caps and gowns, we lost touch for nearly twenty years. I could never wrap my heart around why, though I suppose I could explain it.
There have been two opportunities lately to reacquaint ourselves, both involving wine and  photo albums.
My albums first. I pulled them from the top of the closet, brushed the dust off and told you my stories as we flipped through each book, sitting side by side on a table bench. As we looked through, I realized at some point I had stopped printing pictures (so much I wanted to show you wasn't even there!) and that I really needed to put others in a shoe box to mail to my ex-husband. I explained to you, as we flipped page after page how I had come to have a child about to graduate from high school, where I had lived along the way.
Some weeks later, we went through your albums. My turn to listen to your stories: college-town friends, all those bright-burning loves we'll never forget and the rock, sometimes around our necks, that are our families.
Mondays I try to keep a 6:30 date with my fiction critique group, and mostly I do, though sometimes with no fresh words in hand. Tonight I sat at a table with three other writers. All women this time, which hardly ever happens. We took turns passing out our four pages, reading those pages aloud and listening while the others gave advice on how to fix our stories.
On the walk home, first writing friend, I thought of you and photo albums. I thought of how after that first visit, I went through and took out all the photos that didn't belong. Because they weren't my story any more. Because there were four other pictures of the same moment that didn't quite capture truth like the best one did. I printed almost three hundred photos to add, to tell my story from where I'd left off having prints made.
As I walked up the bridge to West Olympia, it occurred to me that writing is something like arranging photos in an album.