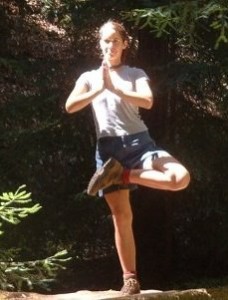 I can be an intensely goal-oriented person, and mostly this has served me well. I wrote a semi-autobiographical novella in part about resiliency, or at least that was the seed. You see, directly and indirectly I have heard all my life that for me, success was unlikely, that my success is a particular miracle, unexpected. So I wanted to explore how it is that I don't feel particularly resilient at all. I wanted to put a character in a situation somewhat like mine and see just how she might come to save herself. It's true I was a welfare kid, a victim of childhood abuse, an intensely shy child who suffered severe allergies for all of my pre-adult life. It's also true that genetically I am predisposed to self-destruct through addictive behavior and that I have suffered anxiety as long as I can remember.
My ability to set goals and work toward them has enabled me to manage anxiety without medication, to go from being unable to run at 24 years old to running my first marathon at 30, and to be a now National Boards Certified Teacher, 15 years of teaching experience behind me. I am a compulsive list maker and goal-setter. I can read through old journals and see that this pattern established itself early. But I'm not writing this blog as a celebration of goal-setting. I'm writing in celebration of the absence of moving toward a goal, a celebration of the pause, something I've come to appreciate these past few weeks.
Certainly my lists and goals serve my writing. It is this tendency that has inspired me to wake up at 4 and 5 in the morning to write first each day, that allows me to add practices to my work that keep me moving forward, like keeping a writing journal on my desk and writing down short and long term goals. But what I've discovered in this early morning writing time is that in the writing itself, I am best served when I can let go of all goals and give myself up to the writing itself. When I try to write fast, when I try to finish a work before it is ready to be done, when I rush editing, I ruin the work. I've done this over and over again.
Fortunately, I am a fan of Whitman's insight about contradictions and I too believe I contain multitudes, thus am capable of writing slow, pausing to take walks or just stare out the window in spite of the anxious, goal-oriented me. Practices that strengthen my ability to pause include the writing itself, yoga and meditation, and time spent in nature. As I write this, I am thinking of this work we do as writers as a kind of dance where we are called to move through many aspects of ourselves to do our best work.
Buy my books here.
Interested in hiring me as a coach to get you boosted with your writing goals?
Find free resources and information here.
Some past posts to keep you making time: 
Adjust your pace accordingly.
It's about the routine and how you shake up the routine
There are things you will have to give up
See it to achieve it
Washing the dishes
Write slowly
A celebration of the pause
Monday, a run through the driving rain
Zen accident
Get out of your comfort zone