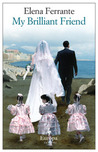 My Brilliant Friend: Neapolitan Novels, Book One by Elena Ferrante
My rating: 3 of 5 stars
I finished this book a while ago and have been thinking about what to write here. This book is the first in a series of four and I felt a little jipped in the end when I realized that in order to get to the bottom of some of the books central mysteries I would have to read all four. I am tempted to do this, though as the summer draws to a close and I'm beginning to think more and more of the stories I'll teach this coming school year and the books I really wanted to read by the end of summer, it may not be right away. When I do read them, though, I hope they'll be page turners like the first one, that I can read them all in one long binge. The sense of place created in the story, the mystery, and the looming danger did compel me to finish this book at a faster pace. The aspect of this story that I most want to see through to the end is the strange friendship/rivalry between Elena (narrator) and Lila. Their love and envy are rendered hauntingly real. This story begins in the 1950s when the two girls are primary school friends and takes place is a poor community outside of Naples where distinctions of class, gossip and rumors, and old-world values complicate relationships. The two very different paths the two friends take as they move out of adolescence and into adulthood is a central theme.
Buy my books here.