I hear myself say this is such a busy school year and I have to laugh at the joke. It's always a busy school year. Life is unexpected and social and if you want to live a creative life, you've got to persist in making time to do whatever the creative work you have to do looks like.
My most recent strategy for making time involved taking inventory of how I organize my writing ideas and coming up with something that actually works for the kind of brain I have. I'm not going to go into an explanation of my new system. It seems that's only useful to me. What's useful to you is having a system to organize your writing ideas and being flexible about changing what isn't working.
I don't think I'll ever write a linear outline again unless forced. They just don't work for me.
Here's a picture of what this week worked like a miracle for me.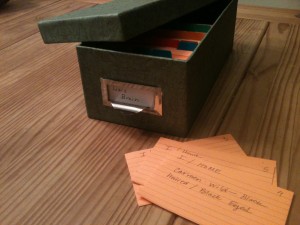 Buy my books here.