My seniors are reading Hemingway, so, of course, I am rereading him too. And thinking about him and his oft-quoted advice to writers. Just one true sentence? The truest sentence you know?
When I first read Hemingway with a writer's eye (in college), I became enamored with his concision and tried to mimic it. The result was stories that were puzzling. All that human emotion and thought left unsaid, unthought, left for the reader to pluck from the tone of a line of dialogue, the selection of a particular noun or verb. What resulted were stories that were good in parts, but that didn't satisfy my own sense of what I needed to convey in writing. They weren't in my voice. Plus, I'm always a little suspect of a narrator who hides entirely, offers nothing to the conversation.
I've learned I'm  no Hemingway, don't desire to be. But I do take his one true sentence advice for a particular use. That moment when you are stuck as to how to get from A to B, one moment to the next. Your girl is standing outside the door about to knock. You are trying to get her inside. The scene that matters is beyond the door. Now is the time to invoke one true sentence. Write a string of true sentences to get you where you want to go.
Becca knocked hard, shoved shivering hands in jeans pockets, waited. The neighbor's mastiff came sniffing into the year, off leash again.
Becca stood, moved to knock, paused. A car sped by. She reread the notes she'd written on the back of a napkin. She put on a smile, shook out the nerves, pushed the doorbell.
Any time you are stuck, really. One clean, objective sentence of description. Then another and another. A true sentence? Hold on there, Hemingway. Truth is a funny word that holds power only until you start to probe it. One real sentence? Yes. That works. Write one clean, objective sentence located in the reality of your story. These sentences, for me, act as stepping stones.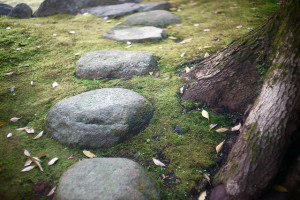 Buy my books here.